Learning to transfer beans using a spoon
Our son is now 26 months old.
This is a basic practical life activity that uses common household items and helps to develop fine-motor skills. By teaching your child to work from left to right, it also helps to set him up for writing and reading from left to right. (Please note: I use the terms "he" and "him" in this exercise because my child is a boy and I find using "he/she" and "him/her" to be clunky.)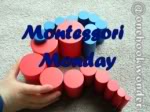 Materials needed
3 small bowls
Child-size spoon
Beans
Exercise
Fill a small bowl with beans and gently move it to your work area. Set two other small bowls to the right of the bowl filled with beans and place the spoon between the bean-filled bowl and the empty bowls. (Note: If you have a child-size tray, you can set the entire activity up on a tray and then carefully move the tray to the work area.)
Sit with your child to the left of you (or to the right of you if your child is left-handed).
With the bowls in front of you, begin by slowly transferring the beans from the filled bowl to one of the empty bowls using the spoon.
Once you've demonstrated this action several times, place the bowls in front of your child, so he can transfer some more.
Additional activities
You can use different types of beans (pinto, black, lentils, etc.) or other items for transferring such as rice or pebbles.
You can also use larger spoons or containers of different sizes to mix things up a little.
Once your child gets comfortable with the action of transferring, combine items of different colors and/or sizes and have your child sort the items by size and/or color.
This activity can get a little messy, so keep a small dustpan and brush close by to clean up any stray beans (a crumber set like this one is well-suited to small hands), demonstrating to your child how to brush the beans onto the dustpan. Once you've shown your child how to clean them up a few times, let him try using the dustpan, too.
Our experience: This has been one of my son's favorite Montessori activities since I first introduced him to it about six months ago. It's one of those activities that he loves to do over and over again. Today, he took off right away when he saw the activity set up and started using the spoon to transfer the beans immediately. He then grabbed the bowl and dumped the beans into the bowl he had been transferring them into with the spoon. Then, he started using the spoon to transfer them again, sometimes with a little help from his hands. All in all, this is one of our favorite Montessori activities. It's something I set up for him sometimes when I busy in the kitchen and I need a little activity to keep him occupied while I am doing my thing. The only downside is that it can get a little messy, especially if he really gets going dumping beans from one bowl to another. But I take that as a sign that he's ready to quit, we clean up and move on to something else.
Win it: Want to try this spooning activity with your child but don't have the materials? Try winning them! You could win spooning and small tong activity sets from Montessori Services in this great giveaway from Living Montessori Now.
What other activities can you think of that teach children how to transfer items using a spoon?