Up to 50% off toys and games at Barnes & Noble
Barnes & Noble has slashed prices on select toys and games, offering as much as 50% off right now. Shipping is free on orders over $25, but sales tax is charged in most states. Among the toys with 50% off savings are: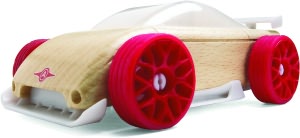 Automoblox C9-R Mini Vehicle in white and red by Manhattan Toy: This red and white mini is the scaled-down version of the full-sized C9 sportscar. The Automoblox minis line boasts a universal connector system that enables the rapid interchange of parts and is conveniently sized for on-the-go car designers. Automoblox has won numerous prestigious awards. Priced at $5.97.
Crocodile Creek drinking bottle in Dinosaur Kingdom: This beautifully illustrated, brightly colored stainless steel drinking bottle is made of stainless steel and free of BPA. Priced at $4.97.
Melissa & Doug's Frolicking Frog Pull Toy: This frog hops up and down and wiggles its eyes as its pulled along. It's recommended for ages 18 months and up. Priced at $9.97.
Melissa & Doug Lacing Bear Dress-Up: This wooden lacing set includes an adorable bear, 17 clothing and accessory pieces, and 2 extra-long laces! The set is designed to encourage fine motor skills and creative development. Priced at $4.97.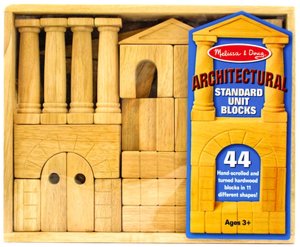 Melissa & Doug's Architectural Unit Blocks: This classic Architectural Unit Block Set allows children to create their own buildings, bridges and other creations with architectural style! These smooth-sanded hardwood block sets are naturally finished and packaged in an attractive wooden storage case. Unit blocks are great for encouraging open-ended play and practicing fine and gross motor skills as well as problem-solving skills. The set includes a total of 44 pieces. Priced at $29.97.
Wonderworld Mini Police Car: This wooden vehicle is the perfect size for tiny hands and comes equipped with an officer. Priced at $8.97.
Wonderworld Mini Fire Engine: Another wooden vehicle designed for tiny hands. This one comes equipped with a firefighter and a ladder that moves up and down. Priced at $8.97.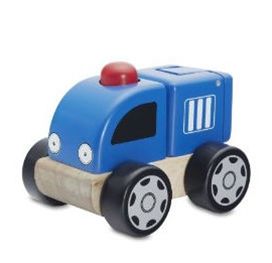 Wonderworld Baby Police Car: The Wonderworld Baby Police Car is made from quality wood and is suitable for children from 12 months old. The police car has a red siren that beeps and the back door swings open and close. It helps with a child's visual perception, sound recognition and hand-eye coordination. Priced at $7.47.
P'kolino Multi-Solution Shape Puzzle in Robot: This puzzle can be solved in a variety of ways, entertaining kids longer and stimulating creative thinking. Recommended for children 18 months and older. Priced at $9.97.
Melissa & Doug Stacking Emergency Vehicles: This set of wooden vehicles includes a fire engine, police car and ambulance. Each vehicle has a free wheeling base and is constructed of solid wood stacking parts. Priced at $9.97.
Wonderworld Mini Airport: This set includes a passenger terminal with a security scan, a boarding bridge, a small luggage transfer vehicle and a plane with a passenger and luggage. Recommended for children ages 2 years and up. Priced at $39.97.
Melissa & Doug's Fire Truck Chunky Puzzle: This puzzle is made of solid wood and features hand-painted pieces. There are pictures under the pieces, and the pieces stand up for pretend play. Priced at $4.97.
Melissa & Doug Cargo Carrier: This wooden truck features removable panels and is packed with eight produce boxes. Priced at $9.97.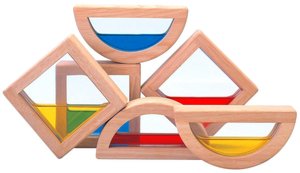 Plan Toys Water Blocks: The colored water inside the blocks helps children learn about water as its shape changes with the movement of blocks and gives them a new perspective of their environment when they look through them. Recommended for ages 3 and up. These blocks were a Teachers' Pick in Parent & Child magazine in 2004. Priced at $15.
There are many, many other toys and games on discount. Check out the sale and let us know what else you find.
Disclosure: This post contains affiliate links. Thanks for supporting Our Natural Journey at no cost to you. For more information, please read my disclosure policy.